To have a better understanding of  the practical meaning of Logline and comp titles,  previously we looked at 6 pitch examples of the published picture books. In this post, we see another set of pitch examples. I thank friends who shared their pitches with me. 
The list is ordered alphabetically based on the book titles. 
From Here to There: Inventions That Changed the Way the World Moves
This pitch attracted an editor from HMH Books for Young Readers. The editor asked Vivian to write 8 more similar stories and a new book was born!
In 1914, opening a car dealership seemed like a good idea to Swedish immigrant Eric Wickman, but when he couldn't even sell the floor model, he stretched his imagination—bought the car himself—and created a business that stretched coast-to-coast, Greyhound Bus Lines.
Home
Karen pitched her manuscript to the Australian publisher Daisy Lane publishing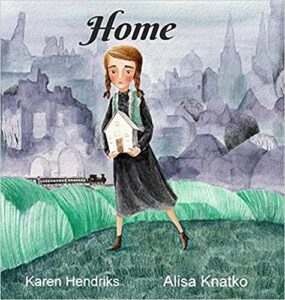 War ends, yet its dark shadow remains. A family is forced to flee their home. As they journey through hunger, long cold nights, and homelessness, a heart locket whispers words of hope. And a country that's far away, calls for those that are no longer wanted. It offers new beginnings and a precious place, once more to call home.
She didn't give a comp title in the query letter.
Latkes for Santa Claus
Janie pitched her manuscript during PitMad on a Thursday and the manuscript was sold on the next Tuesday to Sky Pony Press!
Cookies are SO boring. Anna wants to leave Santa a treat that blends the holidays her family celebrates: Christmas and Hanukkah. After a showdown with her stepbrother, Anna finds the perfect finger food in Latkes for Santa Claus.
Janie didn't give any comp title in her query letter.
Nacho's Nachos: The Story Behind the World's Favorite Snack
Sandra pitched her manuscript to Lee & Low Books
One day in 1940, a regular customer walked into a restaurant and asked for something new. Ignacio "Nacho" Anaya took on the challenge, and in an inspired moment of culinary history created the dish now eaten all over the world. Nachos!
Sandra didn't give comp title in her query letter.
The Great Stink
Colleen pitched her manuscript to Margaret K McElderry Books through her agent:
In 1858, London's River Thames surged with the raw sewage of 2.5 million people. On a cool day, the smell was unpleasant, but that summer an historic heat wave combined with the city's outdated sewer system to create an olfactory event so putrescent, so feculent, so foul, Londoners gave it a name. They called it "The Great Stink"—and it changed the city forever.
and here is the comp title part:
Like THE SECRET SUBWAY (written by Shana Corey and illustrated by Red Nose Studio) and BALDERDASH: JOHN NEWBERY AND THE BOISTEROUS BIRTH OF CHILDREN'S BOOKS (written by Michelle Markel and illustrated by Nancy Carpenter), THE GREAT STINK provides readers a window into a time when something we take for granted today didn't exist. And like Allan Drummond's PEDAL POWER: HOW ONE COMMUNITY SURVIVED A TORNADO AND REBUILT FOR A SUSTAINABLE FUTURE, the story shows how a grim situation can generate results that benefit people for generations to come.
Two Bicycles in Beijing
Teresa pitched her manuscript to Albert Whitman & Co.
Old friendships and new friendships are found and made amidst the sights and sound of Beijing on a glorious autumn day in the 602-word picture book, BICYCLES IN BEIJING. The universal theme of friendship is explored in a city half-way around the world so kids can discover something new while experiencing something familiar. This story provides a nice first look at, and background on, the capital city of China and is a good precursor to the book My Beijing: Four Stories of Everyday Wonder (by Nie Jun)."
With the beautiful illustration of Junyi Wu, another book was born. 
---
I am gathering the third batch of pitches of the published picture books. If you are an author, willing to share your pitch in this blog, please, kindly drop me a message.
---
I write blog posts about the craft of writing picture books regularly. The list of the previous posts is on the PictureBookPedia page. Also, I publish a quarterly newsletter that includes links to recent blog posts.
Looking forward to reading your comments.